Ewe OK Joins Fatboy Slim on Fundraiser!
Posted on 27 September 2023
Clients from our UOK Brighton & Hove mental health service, the Wellbeing Hub at Preston Park, joined Norman Cook aka Fatboy Slim, on his half-marathon walk across Brighton and Hove in aid of local hospice, Martlets.
This month, residents and visitors to the city will have noticed some very colourful and unique Shaun the Sheep sculptures scattered around streets, parks, and public spaces. Over 40 have been designed by local artists and groups, including the Wellbeing Hub, to raise money for this important charity that provides care to people affected by terminal illness.
With his hits pumping from a speaker, our colleagues and clients joined Martlets Ambassador, Fatboy Slim, as he began his Bleat Sleep Graze Repeat tour of Shauns in the city!
Magpie, a local artist and client who joined the walk, said,
"It's very important to support art in the community. Art therapy is extremely important in helping support mental health challenges."
We spoke to Fatboy Slim, who said,
"It's an adventure! We reckon it'll take nine hours. The journey's end is my café, Big Beach Café, and the Shaun there is the one that's close to my heart! It's very fulfilling for me to be involved with Martlets."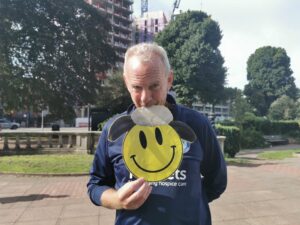 We are so proud that the Wellbeing Hub at Preston Park were chosen to create their own little Shaun, Hank, who is standing in a flock of three at the Ledward Centre.
Recovery Worker, Ali, has driven the project, which began in January when the Wellbeing Hub paid an adoption fee to Martlets. A plain white Shaun was delivered in April where they unveiled him, watched Shaun the Sheep, and held a design competition where clients could take home templates.
She said,
"We didn't have long. Three weeks later, we had The Sheep Factor, and we laid out all the fleeces and everyone had to vote for their favourite. Justine won! We've been holding fundraising events – an ongoing arts and crafts stall, a bake off, a sponsored walk, a raffle, and bingo. We watched Farmageddon on Monday and I'm doing an abseil down the i360 on the fifth of October. We've raised over £2200 so far."
Justine, who designed Hank, said,
"I was over the moon! It felt amazing. I didn't realise I'd won at first – I assumed someone else would. Nature and art both help my mental health so I wanted to relate it to that. I go to the Ledward Centre a lot – I love the fact that it's an LGBTQ+ safe space and it's a calm space. I feel proud my Shaun is in there."
Watch a short video of the walk here.
For more details on the Shaun by the Sea art trail and how to donate, click here
You can find Hank at the Ledward Centre.